September 23 4 min
G20's main objective in the area of climate change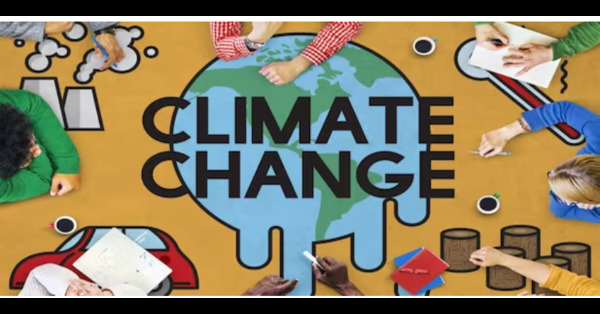 The 18th G20 Summit New Delhi's declaration unanimously supported by all the countries. This marks a significant shift in fight to address climate change.
The conference this year placed a lot of emphasis on pressing climate-related issues. It brought on the significance for one day for climate change.
Sustainable Development Pact
Green development pact for sustainable future was signed amongst the countries on 9th September 2023.
This agreement recognises that the future generations can thrive only when the current generation make some changes.
If the current generation do not make important developmental decisions that are environmentally friendly, then the future is doomed for the next generations.
The G20 leaders pledged to take care of the marginalised communities who bear the first burnt of the climate change. The struggles of these communities including small islands and least developed nations due to the climate change were recognised.
Compliance with Paris Agreement Goals
The goals of the Paris Agreement were clearly aligned with the one day for climate change and Green Development Pact's implementation
Strengthening the Effective Implementation of the Paris Agreement: The agreement emphasises the importance of bolstering the efficient implementation of both the Paris Agreement and the United Nations Framework Convention on Climate Change. Its main objective is to actively pursue efforts to keep the rise in global temperatures to 1.5 degrees Celsius while actively reducing it to well below two degrees Celsius.
Recognition of Inadequate Efforts: The agreement acknowledged that they have fallen short of the Paris agreements goals. Inadequate efforts worldwide by various countries were not sufficient to meet the goals of the Paris agreement and thus action must be taken to meet those goals.
Driving Ambitious Action: There are a number of ways to drive ambitious action across all of the Paris Agreement's pillars, including climate financing, international cooperation, cooperative support, and the encouragement of sustainable consumption and production.
Greenhouse Gas Reduction Commitment
A solid commitment to preventing global warming to 1.5 degrees Celsius is made through the Green Development Pact. By aiming for a 43% reduction in global greenhouse gas emissions by 2030 compared to the levels observed in 2019, this objective can be achieved.
IPCC's Evaluation: The conclusions of the Sixth Assessment Report (AR6) of the Intergovernmental Panel on Climate Change (IPCC) are supported by the agreement. Global greenhouse gas emissions are anticipated to peak between 2020 and no later than 2025, according to AR6.
Variable Peaking Times for Emissions: It was recognised that global emissions may peak between 2020 and 2025. But it is possible that all countries will not peak at the same time. Various issues such as poverty, sustainable development needs to be addressed by the respective governments to ensure that the peak emissions do not hinders the development in these categories.
Finance for Developing Nations' Climate Change: If less developed countries acquire enough climate financing from wealthier ones, they can attain their emission peak targets within set timelines. For poor countries to be able to align their peak emissions with global climate goals, adequate support in the form of climate finance is essential.
Matching National Contributions to the Goals of the Paris Agreement
The Green Development Pact places a strong emphasis on the necessity for countries to match their Nationally Determined Contributions (NDCs) with the Paris Agreement's temperature goals.
Nations who have not yet aligned their NDCs with these objectives are invited to review and improve their 2030 goals while taking into account their particular national circumstances.
Under the Paris Agreement, Differentiated Responsibilities
The agreement emphasises the Paris Agreement's differentiated responsibilities, with developed nations taking the lead through ambitious carbon reduction targets.
On the other hand, developing countries are urged to gradually step up their mitigation efforts as they move towards economy-wide carbon reduction targets.
Global Commitment to Net Zero Emissions
The G20 leaders have committed to achieving global net-zero greenhouse gas emissions.
This commitment is set to be realized by or around the middle of the century, with the target year being 2050.
To attain this ambitious goal, they intend to implement a range of strategies.
These strategies include the adoption of a circular carbon economy and one day for climate change.
Additionally, they aim to drive socioeconomic development and leverage technological advancements as essential components of their approach.
Addressing the Costs of Climate Inaction
The agreement says that if we don't act now, it will cost us even more in the future, and those costs will be higher than what it takes to make a well-planned change. It also recognizes that climate change can have big costs for our economy.
It's important for countries to work together to reduce these risks, especially when it comes to money for climate projects and new technology.
The declaration talks about creating an economy that doesn't harm the environment while making things and using them.
The G20 leaders have promised to focus on ways of living that help the environment, so we can reduce pollution by 2030 and work towards a world with no extra pollution.
Comprehensive Commitments in Climate Finance and Beyond
The pact involves various commitments. These include:
Carrying out clean and sustainable energy changes.
Promoting sustainable finance.
Setting aside a day to focus on climate change.
Dealing with obstacles related to data that affect climate investments.
Raising large amounts of money worldwide to achieve the goals of the Paris Agreement.
It also places an emphasis on ecosystem conservation, the protection of marine ecosystems, and efforts to reduce plastic pollution.
Reduced Disaster Risk and Assistance to Vulnerable Nations
The pact commits to supporting emerging economies, particularly developing countries, least developed countries, and small island developing states, in bolstering disaster risk reduction and enhancing climate resilience in infrastructure systems, with a focus on strengthening early warning systems, enhancing private sector investment, and facilitating knowledge sharing.